Note: in Easy WP SMTP version 2.0.0 the settings have changed. So please visit our documentation.
What is SMTP?
SMTP (Simple Mail Transfer Protocol) is a communication protocol to transfer emails over the internet.
SMTP & WordPress
Often sending emails from your WordPress blog can be a little painful. In my experience I have seen users having the following issues:
Sending email from my WordPress site but it's not getting delivered to the recipient
The email has been sent but it went into the spam/junk folder on the recipient side
The email wasn't sent because of the server restrictions
The email got lost somewhere in the server
To prevent this issue SMTP can come in very handy. Instead of actually sending the email to the recipient you can configure your WordPress blog so it sends the email via a SMTP server.
All the popular mail services (example: Gmail, Yahoo, Hotmail) have SMTP servers. Once your site is authenticated with a SMTP server it will allow you to transfer all outgoing emails from your WordPress blog to the appropriate recipients.
Benefits of Using SMTP
You are using a SMTP server of a popular mail service so the email is less likely to be marked as a spam
The SMTP server is taking the full responsibility of delivering the email to the recipient. It lowers the risk of emails getting lost somewhere
You are using one of your preferred email address to send email from (example: [email protected])
Easy WordPress SMTP plugin makes sure that you never need to worry about "email not being delivered". It does everything for you so your WordPress blog is ready to use SMTP.
Easy WordPress SMTP Plugin Installation
Go to the Add New plugins screen in your WordPress admin area
Click the upload tab
Browse for the plugin file (easy-wp-smtp.zip)
Click Install Now and then activate the plugin
Easy WordPress SMTP Plugin Setup and Usage
Once you have installed the plugin please go to the Settings menu of the plugin to configure some SMTP specific options.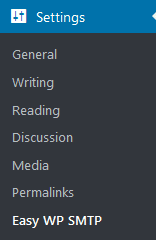 SMTP Configuration Settings
You should ask your hosting provider for the SMTP details of your site. Use the SMTP details that your web hosting provide gives you to configure the SMTP settings.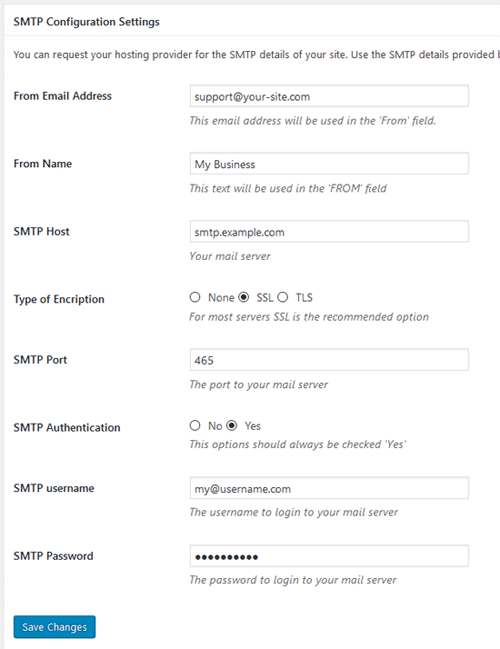 From Email Address: The email address that will be used to send emails to your recipients
From Name: The name your recipients will see as part of the "from" or "sender" value when they receive your message
SMTP Host: Your outgoing mail server (example: smtp.your-site.com)
Type of Encryption: none/SSL/TLS
SMTP Port: The port that will be used to relay outbound mail to your mail server (example: 465/587/80)
SMTP Authentication: No/Yes (This option should always be checked "Yes")
Username: The username for SMTP mail server (example: [email protected])
Password: The password for SMTP mail server
Once you are done click on the "Save Changes" button to save the settings. Now, use the testing section to send a test email and make sure the emails are getting delivered.
Getting an Error When Sending Email via SMTP
If you see an error like "Cannon connect to smtp port" then that means the SMTP details you entered is incorrect. Go back to your hosting provider and request them to provide correct SMTP details so the plugin can connect to the SMTP server.
Check the info shown in the "Debug Info" field when you send a test email. It will print more details which can be very helpful in determining where thing are going wrong on your server.
The following screenshot shows an example of where the debug info is shown when you perform and email test.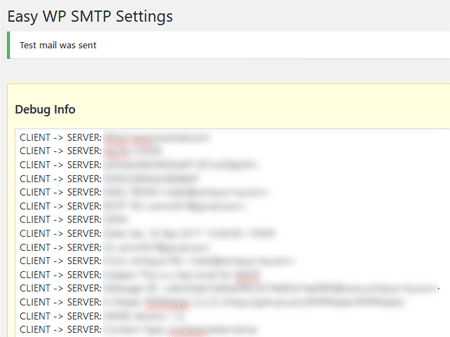 Using Public SMTP Servers (Not Very Reliable)
The best option is to use your own server's SMTP (the details provided by your hosting provider). You get the best result when you use your own site's SMTP details.
However, if you wanted to you can use the common SMTP servers offered by Gmail, Yahoo or Hotmail. These are not very reliable though.
For your convenience I have made a configuration list of some of the popular SMTP servers
Gmail
SMTP Host: smtp.gmail.com
Type of Encryption: TLS
SMTP Port: 587
Yahoo
SMTP Host: smtp.mail.yahoo.com
Type of Encryption: SSL
SMTP Port: 465
Hotmail
SMTP Host: smtp.live.com
Type of Encryption: TLS
SMTP Port: 587
Testing & Debugging Settings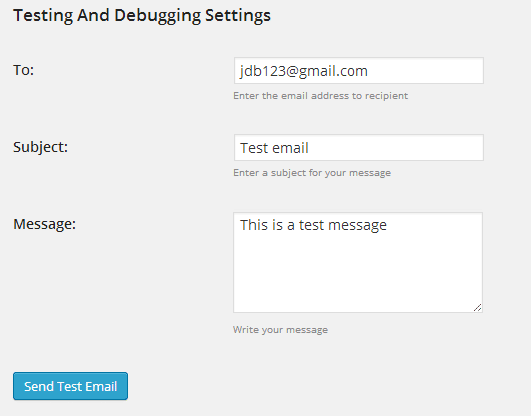 This section allows you to send a test email to a recipient to make sure that email sent via SMTP is working correctly.
Let me give you an example so you know what will happen:
Lets say you want to use your hosting provider's SMTP server and you have already configured your main email address "[email protected]" (in the general settings) to send all emails from your site.
Now you want to check what a recipient will see when an email is sent from your site. So you enter your alternative email address (example: [email protected]) in the "To" field along with a subject and a message.
When you click on the "Send Test Email" button, your WordPress site (SMTP client) will relay this email to the SMTP server. The SMTP server will authenticate this request based on the credentials you have provided (example: username, password).
Once the request is authenticated, it will send this email to [email protected]